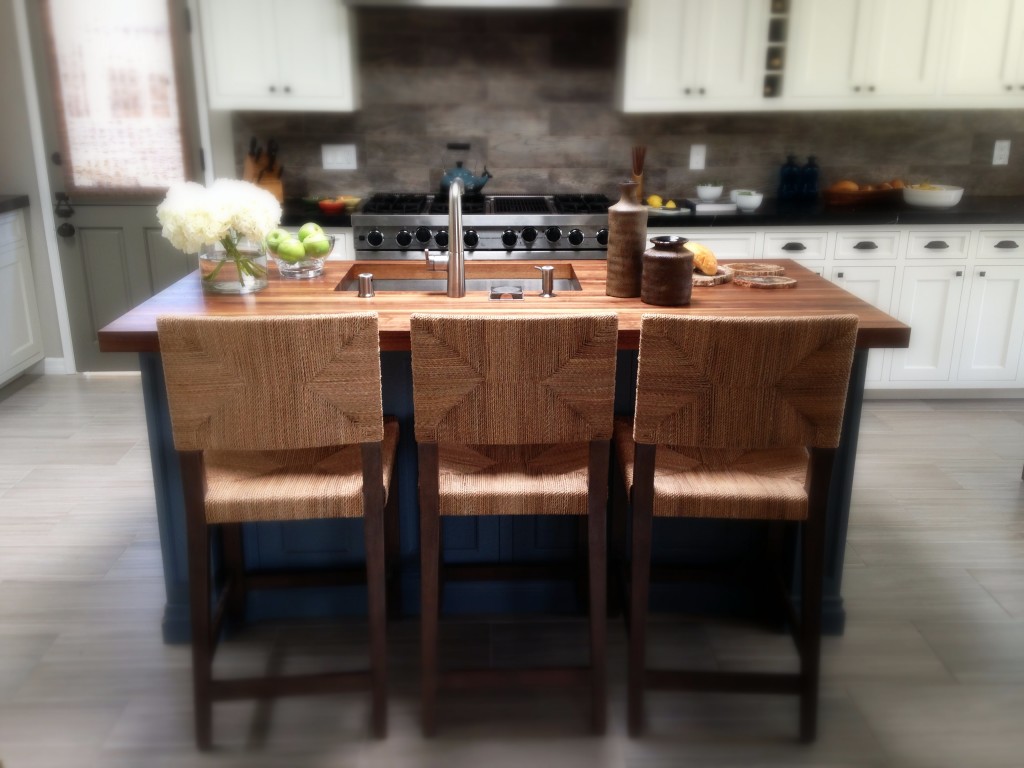 Now that our episode of House Hunters Renovation has aired to the world, I'm happy to share a few photos from the project-compliments of the lovely Churchill family.  In addition to them both being very fun clients, Ryan is a writer, comedian and thankfully, a very artistic photographer (a couple of the images are our snaps, shouldn't be hard to spot.)
IT TAKES A VILLAGE!  We couldn't have made this kitchen happen on the $30K budget without the help of a great team.  First of all sir Tony, essentially a master carpenter, from Farmhouse Custom Cabinetry gave us stellar, fully-finished cabinets that made the room feel like a million bucks.  These cabinets alone would have run $30K, so I can't thank him and his team enough.
Of course, several others helped round out the accessories: Betsy Enzensberger lent whimsy with her fine art plaques; Guildery fabricated and delivered my line of signature pillows just in time; Venice Vintage Paradise provided some furniture pieces with character.  In addition, other vendors provided my custom woven roman shades, select accent furniture and potted plants that rounded out the look.
And last, but not least, our trusty contractor Bo began the party with a stellar team that made everything else flow in spite of a few typical remodel "surprises" we faced as the room was gutted.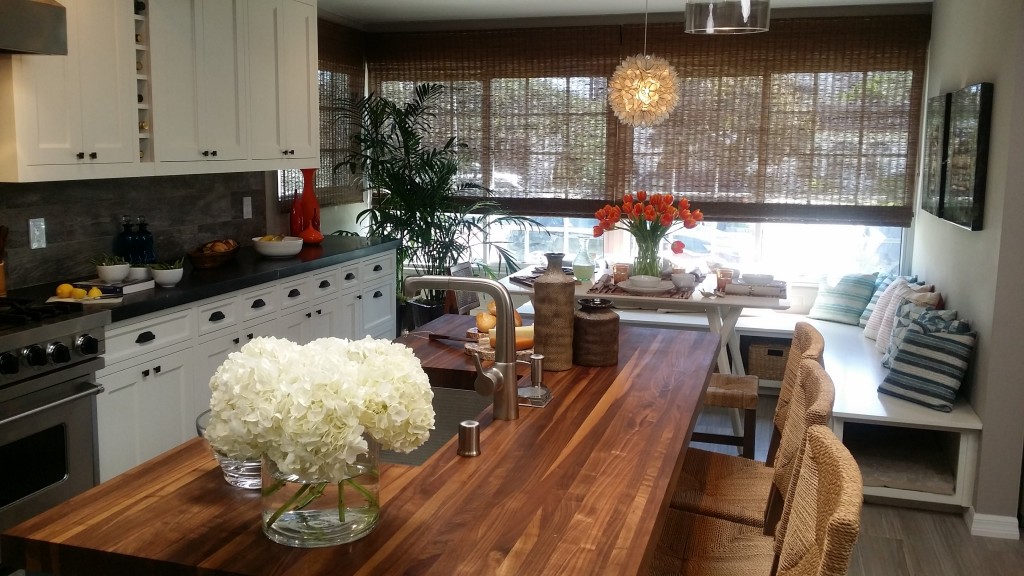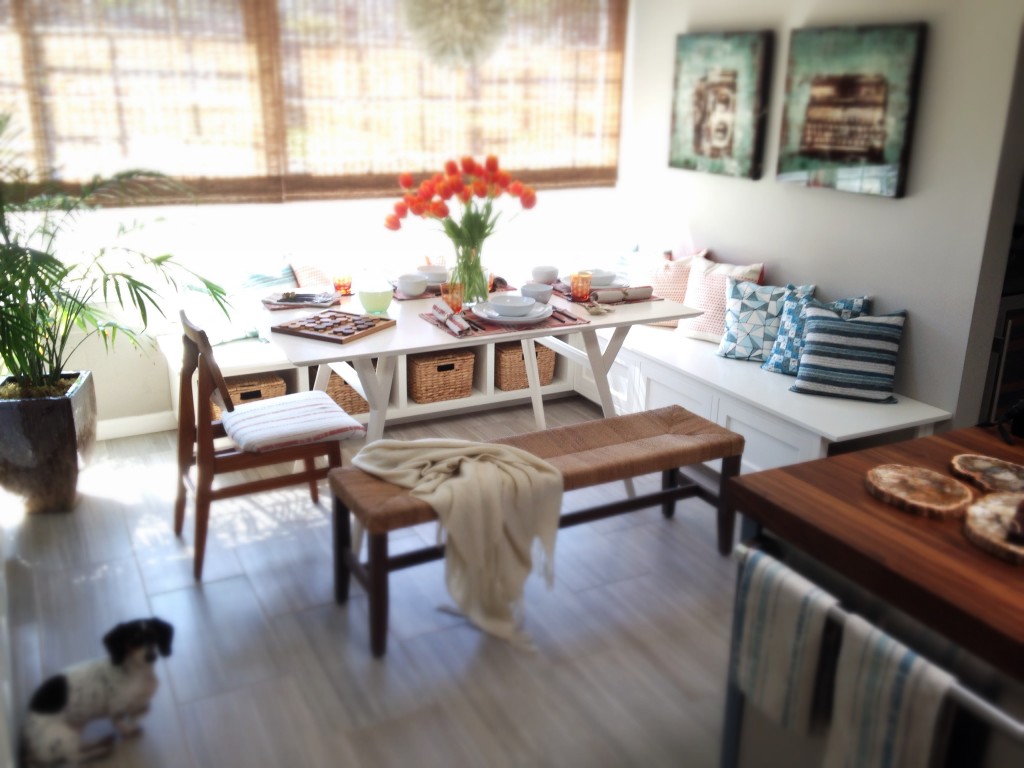 Soapstone is a durable natural material that you may remember as that cool countertop in high school science class.  A dark grey stone with minimal veining, it adds a dramatic contrast to the white cabinets while complementing the woodgrain porcelain tiles–a beautiful look with little fuss.  In the breakfast area, a vibrant table setting on a crisp, white mid-century inspired table invites chic, but casual dining.
Simple pendants hang opposite the existing skylight to keep things illuminated in evenings.   The washer and dryer were displaced when we enlarged the kitchen, so cabinet doors painted to match the rest of the kitchen either reveals or conceals these appliances as needed.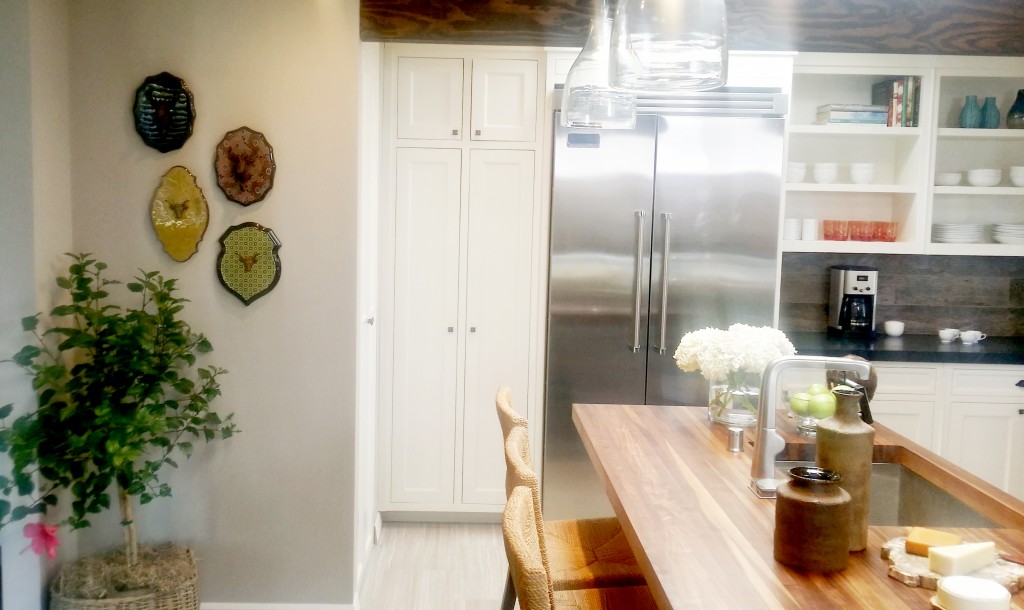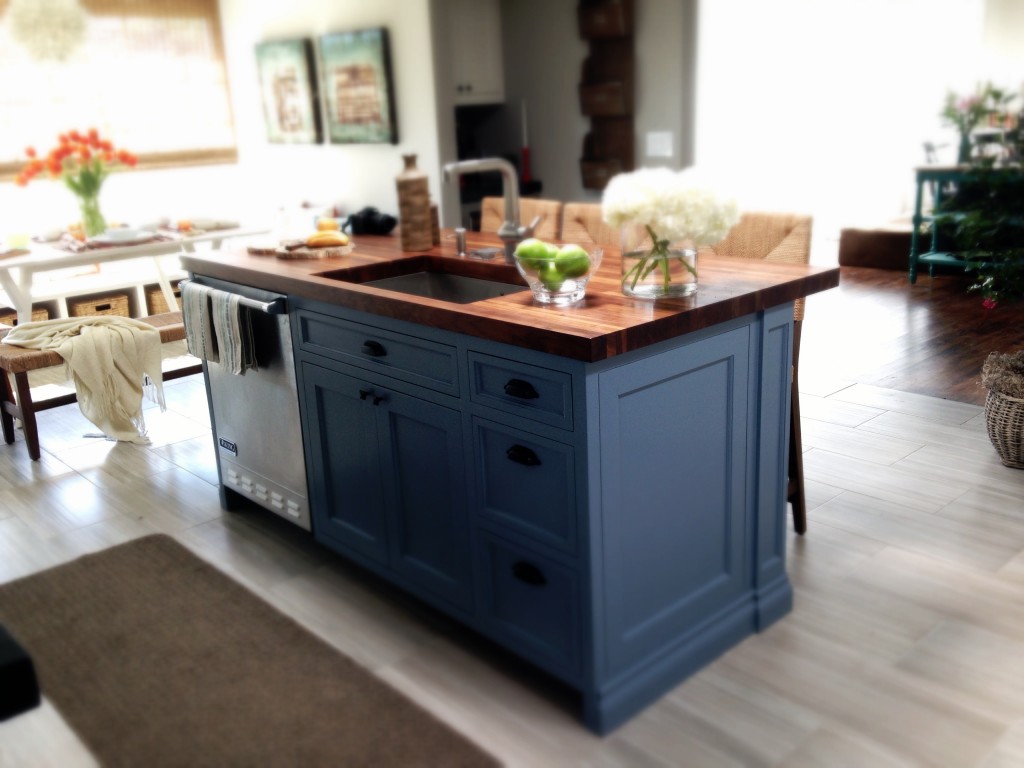 In addition to all the fabulous vendors, it was a delight to work with the amazing team over at Pie Town.  James, Kelly and Carrie are key players in this stellar production company.
PLAY IT AGAIN, SAM?  In case you missed the episode or want to see it again, you can view ONLINE at HGTV.COM through your provider and it will also air again on HGTV NETWORK next month.  Note that the design/remodel portion of the episode starts about thirty minutes in during the second half of the program.
HGTV TELEVISION NETWORK:
HHR Season 5 • Episode 5 (Premiere Episode):
"A Young Couple's Hands-On Renovation Still Blows The Budget"
Thursday, February 12, 2015 on HGTV
7:00 PM-EST/PST • 6:00 PM-CST • 8:00 PM-MST
*Do check your local listings for final time and HGTV channel location with your specific provider
ONLINE AT HGTV.COM:
Want to check out the episode on your computer? You can go to http://watch.hgtv.com and watch online using your login access for your cable provider.