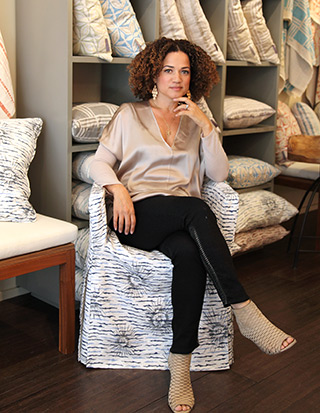 Photo: Bethany Nauert
PRINCIPAL DESIGNER, ALLIED MEMBER ASID
received her undergraduate degree from UCLA with a Bachelor of Arts in Theatre and went on to act in theatre, film and television for several years.

Bridgid's foundation in design began at the age of twelve when she would feverishly sketch interior design options for her family's 1908 Craftsman House in Berkeley, California. She continued her hobby-passion by drawing reconfigurations of almost every space she'd inhabit from childhood to college; as if manipulating this mad geometry was solving the puzzle of a room.

Bridgid completed UCLA's highly regarded post-graduate Arch_ID Interior Design Program, a master's level equivalent through extension, where she gained a deeper understanding of the complexities of design. Through this training she explored everything from the elements of design, color theory, sustainability, form and history; to the business management of a project; as well as the responsibilities of building codes and ADA requirements that go along with the design of a space.

Bridgid also completed a Specialization Studio with leading hospitality firm Hirsch Bedner & Associates, where she excelled at all aspects, especially enjoying the process from concept to design & development for the boutique hotel.

Ms. Coulter is the Principal Designer for bridgid coulter design, llc—a full-service Boutique Interior Design Practice which focuses on residential, hospitality and creative office space design.